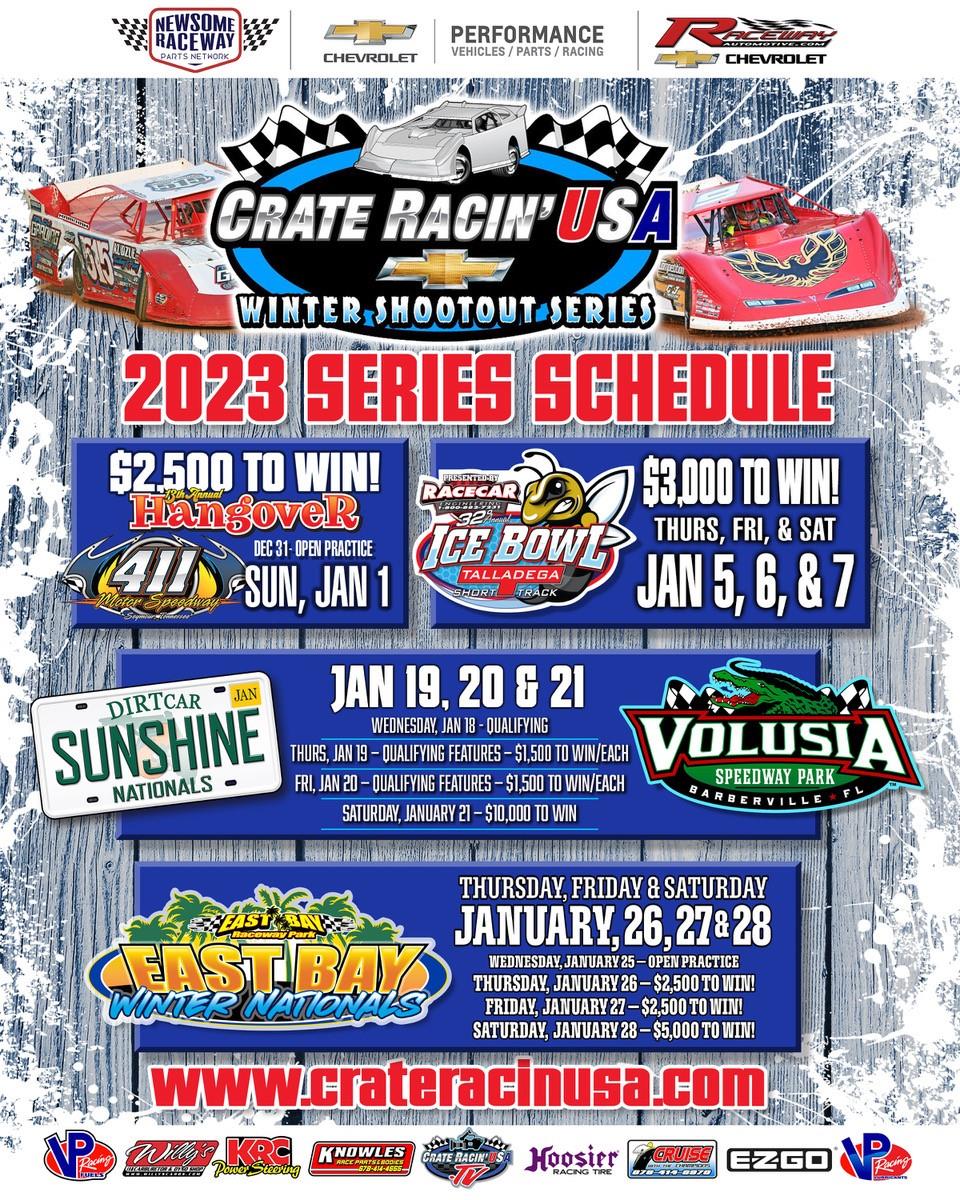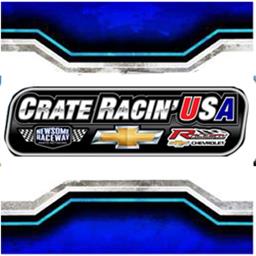 12/27/2022
Crate Racin' USA
---
2023 Winter Shootout Series Schedule Sets Up Busy January
Eastaboga, AL – Crate Racin' USA officials have released the 2023 Winter Shootout Series schedule, which serves as a "mini-series" of events that run prior to the start of the regular Touring Division season. The 2023 Winter Shootout Series schedule will see all events on the mini tour take place in the month of January, with scheduled events coinciding with long-time winter/off-season staples at their respective facilities.
The 2023 Winter Shootout Series will bring in the New Year with action set at Mitch and Tanya McCarter's 411 Motor Speedway in Seymour, TN during the 13th Annual Hangover on January 1st, 2023. The weekend will get started with an Open Practice on Saturday, December 31st, 2022, and culminate with a $2,500-to-Win feature on Sunday, January 1st, 2023.
The series then takes just a few days off before heading to "The Hornet's Nest", Talladega Short Track, for the 32nd Annual Ice Bowl. The longstanding, winter event will see Open Practice on Thursday, January 5th, followed by Qualifying and Heat Race Action Friday, January 6th, and B-Mains and a $3,000-to-Win Feature will finish out the weekend on Saturday, January 7th.
Following the action of the first two-weekends of the new year, the series will sit idle for one week before heading south to Volusia Speedway Park in Barberville, FL to participate in the 4th Annual Sunshine Nationals event, January 18th through 21st, alongside the World Of Outlaws Case Construction Super Late Models and 602 Late Models. A revised format for the 2023 Sunshine Nationals will set Qualifying Features for both Thursday and Friday from Wednesday's Qualifying times, and those $1,500-to-Win Qualifying Feature finishes from Thursday and Friday will setup Saturday's Last Chance Showdowns and the $10,000-to-Win Finale. This format revision allows ALL competitors the opportunity to compete in a paying feature event on both Thursday and Friday, which means more on track action for competitors.
The 2023 Winter Shootout Series will finish out the month of January with action at the "Clay By the Bay", East Bay Raceway Park in Gibsonton, FL for action during the 47th Annual Winternationals. The weekend kicks off with Open Practice on Wednesday, January 25th, followed by two consecutive nights of $2,500-to-Win events on Thursday and Friday, January 26th and 27th, before winding up the weekend, and mini-series, on Saturday, January 28th with a $5,000-to-Win event.
The 2023 Winter Shootout Series pays the Top 5 points finishers with perfect attendance through the mini tour, with $2,500 going to the Champion. More information regarding points, event specific information, and other contingency and awards announcements will be released in the coming days, so stay tuned to the Series' website and social accounts for the latest info.
About Crate Racin' USA
The economical Chevrolet Performance 602 and 604 Circle Track Engine is utilized by competitors in the various divisions presented by Crate Racin' USA. It's in stock and available for next-day delivery from Newsome Raceway Parts in Hartsville, S.C.
Each engine is built and sealed at the factory to prevent any expensive modifications. To place an order, call 1-877-497-3624.
For more information and rules, visit the organization's website at www.crateracinusa.com, or follow our extensive social media programs on Facebook, Twitter, and Instagram.
Newsome Raceway Parts, a division of Raceway Chevrolet in Hartsville, S.C., is the title sponsor of Crate Racin' USA. E-Z-GO Golf Carts is the title sponsor of the E-Z-GO $100,000+ Challenge.
Chevrolet Performance is the Official Powertrain of the organization, along with Advanced Laser & Machine, Cruise with the Champions, Hoosier Racing Tire, KRC Power Steering, Knowles Race Parts and Bodies, My Race Pass, VP Racing Fuels and Lubricants and Willy's Carburetors.
---
Submitted By: Adam Stewart
Back to News