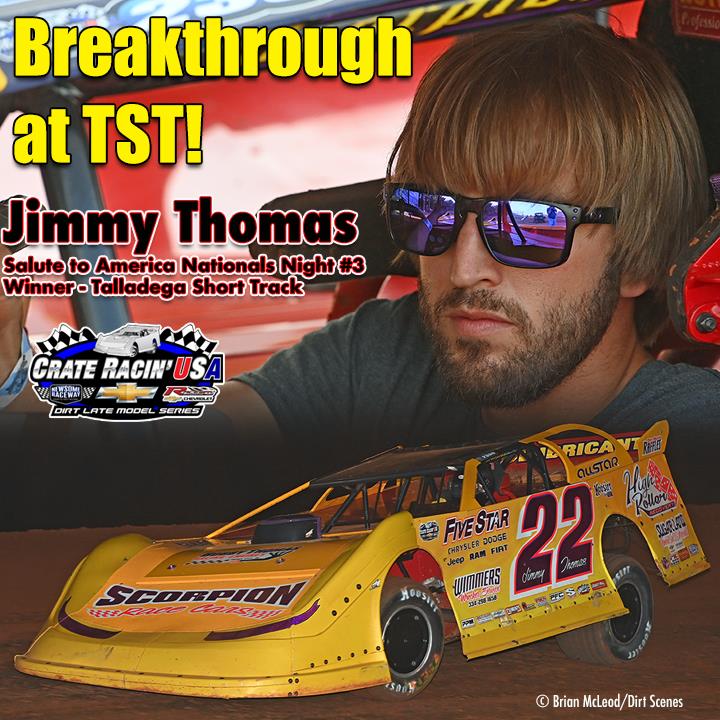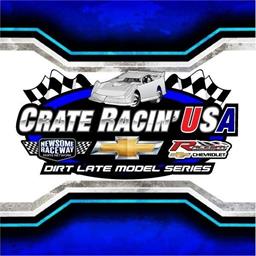 7/4/2021
Crate Racin' USA Dirt Late Model Series
---
Consistent Thomas Reaches Victory Lane at TST
EASTABOGA, Ala. (July 3) — A model of consistency for most of the season on the Newsome Raceway Parts-sponsored Crate Racin' USA Dirt Late Model Series, Jimmy Thomas of Phenix City, Ala., finally broke into the win column on the Eastaboga, Ala-based organization with a hard-fought victory in a 50-lap event that served as the second completed contest in the four-race Salute to America Nationals during the Fourth of July weekend.
The win was his first of the season on the touring circuit, and also his initial visit to victory lane at the third-mile oval that's now under the direction of new owners Adam Stewart and David Miller. After taking the lead from early pacesetter and fast qualifier Christian Hanger on the 22nd circuit as the lead pair threaded their path through lapped traffic, Thomas went on to win over T.J. Brittain, Jake Knowles, Jimmy Elliott and Tanner Collins.
While the opening event of the four-day string of events fell victim to rain July 1 at Clarksville (Tenn.) Speedway, Hanger won July 2 at Moulton Speedway in Danville, Ala., and Thomas added his name to the list.
Remarkable Consistency Leads to Success
Heading into the main event, which was the circuit's seventh event of the season, Thomas had secured five top-10 finishes in five starts on the series, and his only blemish on that shining record was at Needmore Speedway in Norman Park, Ga., on May 8. Thomas broke a steering rack in hot laps, an incident which sent him packing for home early before having a chance to compete in the night's prestigious Gene Maine Memorial at the Kelly and Mandy Walker-owned facility.
"We just didn't have the time to fix that problem quick enough to race that night," Thomas said. "It has hurt us in the points, but at the time we weren't really planning on running for the championship."
Fast forward a little bit, and Thomas has steadily crept into the championship picture, a crown which awards $10,000 to the overall titlist. He's a mere dozen points behind current standings leader Jason Welshan, who posted a seventh-place finish. Just 24 points separate the top four drivers in the standings, and Mike Combs resides fifth and is listed 120 points in arrears.
Most drivers admit it's a bit early in the season to be closely counting points, but Thomas said his recent advance toward the top of the leaderboard has caught his eye even though he's not usually one to pay much attention to such details.
"I guess we've kinda got to pay attention to the points now," Thomas said. "It's not something I will usually give much attention, and we were gonna take it race by race and wasn't planning on runnin' no points, but I ain't got no choice now, right?"
Well…yes. Thomas is a member of a well-known racing family, and has received much advice from people who have been around the sport for decades, including his father and chassis/engine builder Ben Thomas. Their steady hand helps Thomas to deal with his week-to-week performances in the sport, and to help him mentally ride out the ups and down of competition.
"I've always been told that every dog has his day, and through a whole season you're gonna have good days and bad days," Thomas said. "It's a humbling sport, and I grew up in a racing family and that's always been kinda my motto…I was taught that you have to take the bad with the good, and just keep on truckin.'"
The win at TST also sealed a career goal for Thomas, who had never previously won a race at the historic facility that's located pretty much across the street from the famed 2.66-mile, high-banked Talladega Superspeedway.
"It's an amazing feeling to win one here," Thomas said. "It feels good to finally get that monkey off my back, because we've struggled here in the past…actually we've struggled a lot. This win really gives me a lot of motivation to keep working on getting better here. We've been working hard, and we finally got one."
Number Superstitions, Anyone?
While team members said they withheld the information from Thomas to avoid making him more nervous before the start, it was mentioned during the afternoon by crew member Timothy Smith that there were 22 cars on hand for the race, and the team's car is No. 22.
"We've been running pretty well and felt a win was coming soon considering how consistent we've been through the early part of the season, so we figured that had to be a sign that something good was going to happen tonight, right?" Smith said.
Then right before the feature started, Thomas' wife McKinley, whom he married earlier this year in February, checked both her watch and cell phone to see how much charge was remaining on those electronic devices.
"I usually check them so I know how much use I'll have remaining on them for messages back and forth with friends and family during the race," she said. "At the same time, both my watch and my phone showed they had 22 percent left on their charge. That was really crazy to have that happen. I didn't dare say anything to Jimmy [Thomas], but that had to be some kind of omen."
Driver Does the Rest
Thomas knew from the start he had a good piece of equipment under him, and it cooperated early as the field charged into the first corner with front-row starters Christian Hanger and Jake Knowles leading the way. Thomasd moved into second, and then took the lead on the 22nd circuit after five laps of tight racing amid slower traffic.
"We started third and went down into turn one and two, and I knew right away we had a good car the way it drove through the corner," Thomas said. "I just tried to focus on my marks from there, and when we got to second and followed the leader around [Christian Hanger] for so many laps, eventually I could see where he was having trouble with a lapped car, and I decided to make a move to the bottom and go for it.
"We were in heavy lapped traffic, and first I went to the top figuring his signal guy would move him up the track. When he did, I ducked low and got under him, and fortunately we came out with the lead. Once I had it, I wasn't coming off that bottom. The track has been getting a lot better recently and they're working on it a lot to improve this place, but tonight the low groove appeared to be the best place to run, and I was determined to stay there once we had the lead."
Once dispatched as the leader by Thomas' maneuvers, Hanger exited the event 11 laps after losing the top slot, hampered by reported brake troubles. He was listed as the 19th-place finisher.
Next Event
The touring series will conclude the four-race Salute to America Nationals with the holiday weekend finale scheduled to be held Sunday, July 4, at Cochran (Ga.) Motor Speedway. The 50-lap race will pay $2,500 to the winner.
About Crate Racin' USA
The economical Chevrolet Performance 602 and 604 Circle Track Engine is utilized by competitors in the various divisions presented by Crate Racin' USA. It's in stock and available for free, next-day delivery from Newsome Raceway Parts in Hartsville, S.C.
Each engine is built and sealed at the factory to prevent any expensive modifications. To place an order, call 1-877-497-3624.
For more information and rules, visit the organization's website at www.crateracinusa.com, or follow our extensive social media programs on Facebook, Twitter and Instagram.
Newsome Raceway Parts, a division of Raceway Chevrolet in Hartsville, S.C., is the title sponsor of Crate Racin' USA. E-Z-GO Golf Carts is the title sponsor of the newly-established E-Z-GO $100,000+ Challenge.
Chevrolet Performance is an official sponsor of the organization, along with Advanced Laser & Machine, Cruise with the Champions, Hoosier Racing Tire, KRC Power Steering, Knowles Race Parts and Bodies, My Race Pass, VP Racing Fuels and Lubricants and Willy's Carburetors.
Official chassis sponsors include Warrior Race Cars, Rocket Chassis and CVR Race Cars.
Talladega/Salute to America finish: 1. Jimmy Thomas, 2. T.J. Brittain, 3. Jake Knowles, 4. Jimmy Elliott, 5. Tanner Collins, 6. Maddux Mullinax, 7. Jason Welshan, 8. Colton Leyendecker, 9. Jason Markewitz, 10. Cody Martin, 11. Mike Combs, 12. Josh Huss, 13. Heath Carr, 14. Jason Lively, 15. Caden Mullinax, 16. Troy Dixon, 17. Tim Clark, 18. Sterling Freeman, 19. Christian Hanger, 20. Logan Palmer, 21. David Culver, 22. Red Farmer.
Current points standings: 1. Jason Welshan, 594 points; 2. Jimmy Thomas, 582; 3. Jake Knowles and Tanner Collins, 570; 5. Mike Combs, 474; 6. Colton Leyendecker, 450; 7. Troy Dixon, 434; 8. T.J. Brittain, 384; 9. Jake Rainey, 270; 10. Austin Horton and Christian Hanger, 256.
Total entries: 22
Boyd-Bilt Fabrication Fast Qualifier: Christian Hanger, 13.721 seconds
Lap leaders: Christian Hanger 1-21; Jimmy Thomas 22-50.
Cautions: 1
Margin of victory: 1.727 seconds
---
Article Credit: Brian McLeod
Back to News