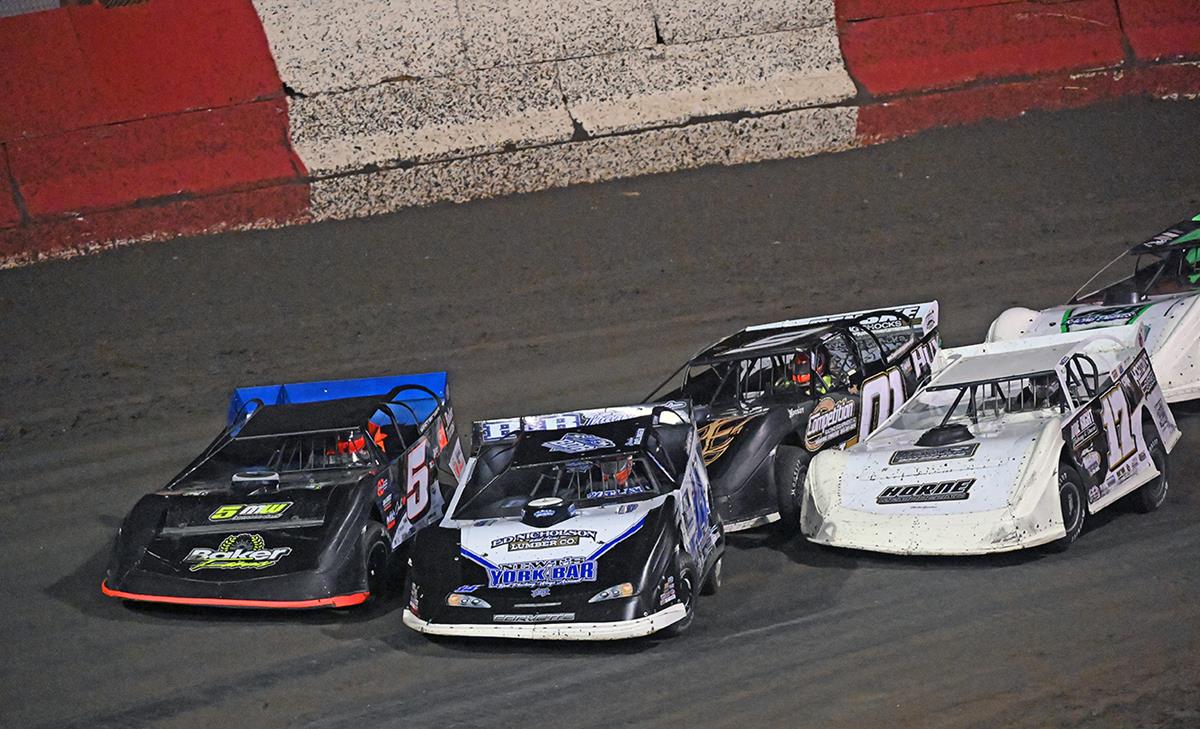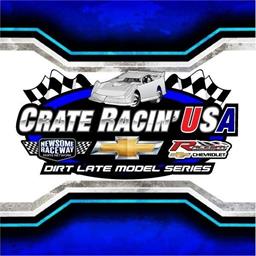 2/6/2021
Crate Racin' USA Dirt Late Model Series
---
Whitener a Winner Again at East Bay
GIBSONTON, Fla. (Feb. 5) — The laps were steadily winding down Friday night at East Bay Raceway Park, and not a caution flag had yet appeared. The race had an apparent rhythm, and it looked and felt like one might not come out, and that's when Mark Whitener of Middleburg, Fla., tightened his grip on the steering wheel in his Barry Wright Race Cars-built machine.
"It was time to go elbows up, because it didn't look like we were going to get a caution to help us close the gap, or to have a restart that would tighten the field," Whitener said. "I felt like it was time to go to work."
He punched his personal time clock, and started to advance toward the leaders after starting from the outside of the third row. Whitener reached second place, drew a bead on early pacesetter Kyle Lukon, and began steadily tracking down the Pennsylvanian as the closing moments reached a more critical stage on the scoreboard.
Lapped traffic loomed large as the two leaders initiated their immediate battle for supremacy. Laps were dwindling quickly, and that's when Whitener decided to make his move. The 40-year-old driver capped off his steady tracking of Lukon with an outside move in turn three to snatch the lead away from the Burgettstown, Pa., driver and earn a $2,500 victory in a 30-lap Crate Racin' USA Winter Shootout Series event held as part of the famed track's annual Florida Winternationals.
Whitener, who explained that he hasn't raced at the track in nearly two years, led the surprising Lukon to the checkered flag, while the top five was filled out by new series points leader Dylan Knowles, Jeremy Shaw and Logan Roberson.
Lukon had never raced at the track until the weekend events, and has started his career experiences at the tricky, third-mile oval with back-to-back runnerup finishes, courtesy of Whitener's victories on the first two nights of the three-day weekend.
"He [Lukon] has been really good here the first two nights, and I didn't really even know his name until he showed up to race here this weekend, but I've sure had fun racing against him," Whitener said. "We've raced hard and bumped a couple times, but I don't mind that stuff, and tonight he came right over to shake my hand in victory lane. I actually like that style of clean, hard-nosed racing, and he's done good here this weekend for never seeing the place. He's definitely got a fast race car."
It just wasn't quite fast enough to keep Whitener at bay. The uninterrupted short sprint ran without interruption and Whitener steadily moved into position and tracked the race leader closely through slower traffic before getting positioned to make his move on the 26th circuit.
"As the race progressed, I had to grab hold of the steering wheel a little tighter because it looked like we might not have a caution and we'd started from the third row. I went to finding my groove, and right when I got near him, we hit some heavy lapped traffic. He was struggling a little bit in turns three and four, and just got hung behind some slower cars. It was a deal where I wanted to be where he wasn't, and I followed him through the slower cars until I got to his rear bumper, and then I knew I was close enough to make a move. We drove around the outside of him entering turn three."
Whitener completed the required distance in 12 minutes and 57 seconds aboard a car owned by him and his wife Bridgett. Sponsorship is provided by Carter Trucking & Logging, P&S Transportation, Mosley Ranch Timber, Michael Moore Construction & Roofing, Edward Jones Investments, Baker Farms, ML Motorsports, Ocala Restaurant Supply, Boswell Oil and Massey Towing and Recovery.
Dylan Knowles took over the series points lead with a 20-point advantage over Jason Welshan of Maryville, Tenn. Three events remain on the schedule. First up is the $5,000-to-win weekend finale slated Feb. 6 at East Bay Raceway Park, along with events scheduled Feb. 25-27 at Clarksville (Tenn.) Speedway and March 19-20 at Modoc (S.C.) Speedway.
The economical aluminum head, steel block Chevrolet Performance 604 Circle Track Engine is utilized by competitors on the series. It's in stock and available for free, next-day delivery from Newsome Raceway Parts in Hartsville, S.C.
The company gives a portion of the sales from each engine sold back to the series point funds in four different divisions. Each engine is built and sealed at the factory to prevent any expensive modifications. To place an order, call 1-877-497-3624.
For more information and rules about the series, visit the organization's website at www.crateracinusa.com, or follow our extensive social media programs on Facebook, Twitter and Instagram.
Florida Winternationals (Night #2):
Mark Whitener, 2. Kyle Lukon, 3. Dylan Knowles, 4. Jeremy Shaw, 5. Logan Roberson, 6. Keith Nosbisch, 7. Cory Hedgecock, 8. Doug Horton, 9. Jake Knowles, 10. Joseph Joiner, 11. Jake Rainey, 12. Nevin Gainey, 13. Drew Kennedy, 14. Colton Leyendecker, 15. Kyle Hardy, 16. Tom Fiebelkorn, 17. Cody Smith, 18. Hunter Sweet, 19. Jason Welshan, 20. Mack McCarter, 21. Tanner Collins, 22. Braeden Dillinger, 23. Bo Slay, 24. Richie Stephens, 25. Kyle Bronson, 26. Phillip Cobb.
2021 Winter Shootout Series Points Standings
Dylan Knowles, 422 points; 2. Jason Welshan, 402; 3. Jake Knowles, 400; 4. Mark Whitener, 382; 5. Cory Hedgecock, 364; 6. Drew Kennedy, 330; 7. Joseph Joiner, 320; 8. Mack McCarter, 306; 9. Cody Overton, 252; 10. Kyle Bronson, 242.
Total entries: 76
Boyd-Bilt Fast Qualifier: Jake Rainey, 16.087 seconds
Provisionals: Jason Welshan, Kyle Bronson
Lap leaders: Kyle Lukon, 1-25; Mark Whitener, 26-30.
Cautions: None
Margin of victory: 1.598 seconds
KRC Power Steering Heat Winners:
Kyle Lukon, Phillip Cobb, Dylan Knowles, Logan Roberson, Mark Whitener, Tanner Collins, Jeremy Shaw, Tom Fiebelkorn.
KRC Power Steering B-main winners: Jake Rainey, Cory Hedgecock, Nevin Gainey.
---
Article Credit: Brian McLeod
Submitted By: Brian McLeod
Back to News