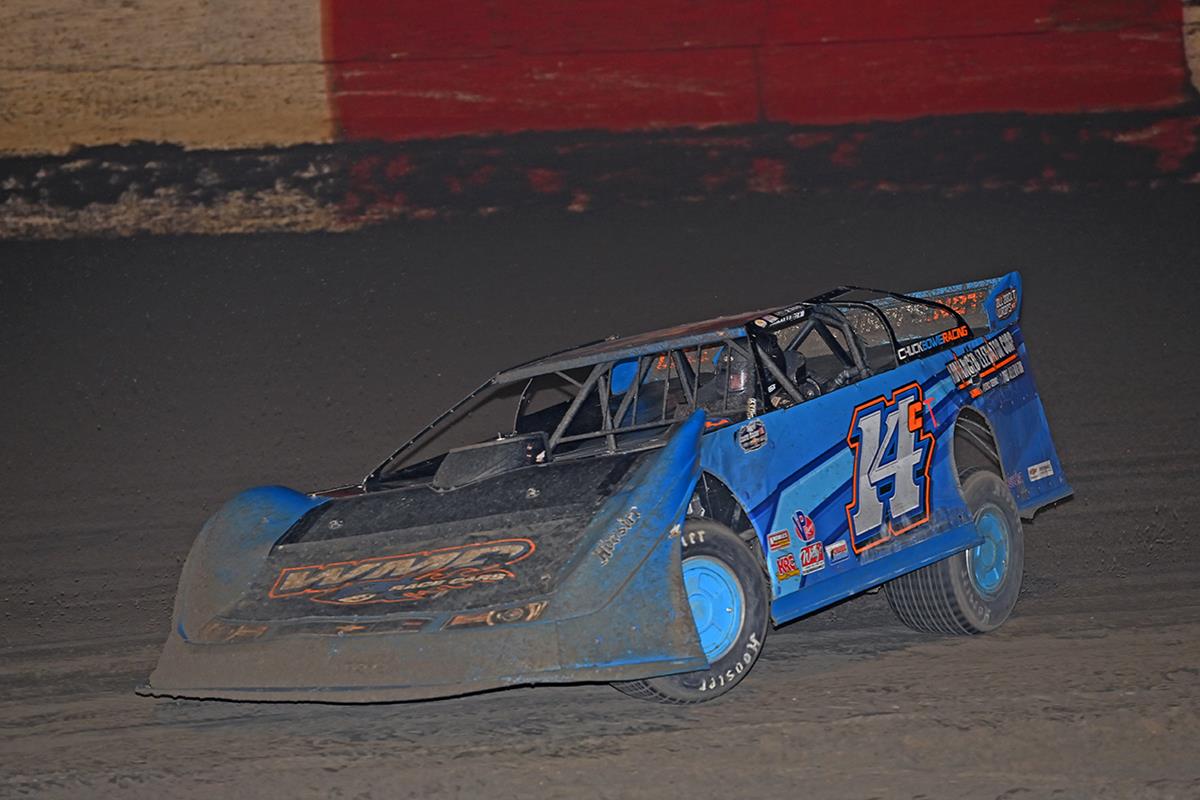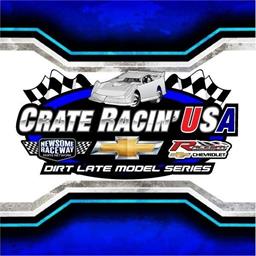 2/6/2021
Crate Racin' USA Dirt Late Model Series
---
East Bay Newcomer Hardy Gets Biggest Win
GIBSONTON, Fla. (Feb. 6) — The scoreboard flashed the 45th lap of 50 scheduled trips around third-mile East Bay Raceway Park, and Kyle Hardy of Linden, Va., was heading to what he later termed his biggest-career victory in a 50-lap Crate Racin' USA Winter Shootout Series event that served as part of the annual Florida Winternationals at the semibanked track.
He knew it wasn't going to be a cakewalk toward the $5,000 first-place prize, because Mark Whitener of Middleburg, Fla., who was fresh off two victories at the facility on the two previous nights of a three-day weekend for the Adairsville, Ga-based sanctioning body, was looming large behind Hardy's leading machine.
The challenger was ready to make a move, and Whitener did so on the 46th lap between turns three and four, setting up a passing attempt that backfired when a lapped car got tangled up with the two leaders.
"I think he [Whitener) saw the slower car and was maybe gonna try to slide me using that lapped car, but it didn't quite work out and that's about all I know about that," Hardy said.
Whitener, who moved into the second spot on lap 28, just four laps after the race's first of two cautions, explained his strategic plans for the opportunistic moment, but lamented his own timing decisions after the incident.
"I don't know how you'd wanna word it, but basically I probably should have waited another lap to make that move," Whitener said. "I showed him the nose on the outside a couple times, and the last time I did he [Hardy] saw me, and that ended that. So I got up under him, and that lapped car pretty much turned left on both of us. I caught his left front with my right front, and it tore my suspension up enough that we dropped to fourth in the last few laps."
From there, Hardy led the rest of the distance to claim the checkered flag over early leader Phillip Cobb and Kyle Bronson, who advanced from near the rear of the field to finish third over Whitener and Jason Welshan. Hardy actually paced the final 37 circuits.
Travis Varnadore led the opening three laps, but relinquished the point to Phillip Cobb on the fourth trip around. Cobb led the next 10 circuits, and then Hardy made the final winning move in turn one on the 14th circuit, statistically sealing the victory during his first visit to a track that is known for its tricky and challenging track surface that is known to change its characteristics from one lap to the next.
"It's my first time to ever run here, and we've run three nights in a row, and I can tell you it's definitely a nerve-wracking place to race," Hardy said. "It's like nothing I've ever seen anywhere else. You have to set your car up way different than you do at most tracks, you have to drive differently than most places, and when you come here you pretty much have to forget everything you do elsewhere. And then when you leave here, you have to forget everything you just did."
Hardy's Chuck and Rosie Bowie-fielded Rocket XR1 carried sponsorship from Advanced Elevator Corp, All About Wraps and WMD Race Cars. Integra Shocks (by M.L. Performance) were bolted on the car.
"I met Chuck and Rosie [Bowie] at Winchester Speedway in Virginia, and we've been having a ball racing with 'em all over the Northeast and Mid-Atlantic region," Hardy said. "Chuck's cousin Billy Bowie helps us on the car, and it's just really been a fun, family-owned deal."
While Hardy arrived at the track and paid his dues with daily handling struggles like most of the rest of a near 80-car field on the first two nights, he took the ups and downs in stride and was ready to roar on the final night of the three-race weekend, and especially after scoring a fifth-place finish in a 30-lapper on the second night.
"We weren't too good in hot laps on the first night and ended up with a 15th-place finish, but I guess you expect that when you see this place for the first time," Hardy said. "We just kept working at it, and tonight it was game on for us. Anybody who thinks this is an easy place to race is more than welcome to come down here and give it a try. This was an extremely tough field here this weekend, there were 80 drivers here all trying to win these races.
"I'm fortunate to be able to race both Super Late Models and Crate Late Models, and all these guys have good equipment. There's a ton of talented drivers who showed up here this weekend, and it's for sure probably the biggest win I've ever had."
The final two events for the sixth annual Winter Shootout Series, which this year featured its largest-ever schedule with nine events, will be held Feb. 26-27 at Clarksville (Tenn.) Speedway and March 19-20 at Modoc (S.C.) Speedway. The latter event is also a part of the E-Z-GO $100,000+ Challenge, which was established at the start of the new campaign.
Florida Winternationals (Night #3):
Kyle Hardy, 2. Phillip Cobb, 3. Kyle Bronson, 4. Mark Whitener, 5. Jason Welshan, 6. Kyle Lukon, 7. Jake Rainey, 8. Shan Smith, 9. Joseph Joiner, 10. Stevie Mathis, 11. Dylan Knowles, 12. Trevor Collins, 13. Travis Varnadore, 14. Braeden Dillinger, 15. Drew Kennedy, 16. Tom Fiebelkorn, 17. Derrick Shaw, 18. Chad Osterhoff, 19. Cory Hedgecock, 20. Benjamin Scott, 21. Michael Maresca, 22. Jeremy Shaw, 23. Keith Nosbisch, 24. Frankie Lloyd, 25. Jake Knowles, 26. Mack McCarter.
2021 Winter Series Shootout Points Standings:
Dylan Knowles, 500 points; 2. Jason Welshan, 492; 3. Mark Whitener, 474; 4. Jake Knowles, 450; 5. Cory Hedgecock, 426; 6. Joseph Joiner, 402; 7. Drew Kennedy, 400; 8. Mack McCarter, 356; 9. Kyle Bronson, 336; 10. Jake Rainey, 322.
Total entries: 55
Boyd-Bilt Fast Qualifier: Phillip Cobb, 15.909 seconds
Provisionals: Drew Kennedy, Kyle Bronson
Lap leaders: Travis Varnadore 1-3; Phillip Cobb 4-13; Kyle Hardy 14-50.
Cautions: 2
KRC Power Steering Heat Winners: Braden Dillinger, Travis Varnadore, Jason Welshan, Kyle Hardy, Phillip Cobb, Kyle Lukon.
KRC Power Steering B-main Winners: Shan Smith, Cory Hedgecock, Jeremy Shaw.
---
Article Credit: Brian McLeod
Back to News