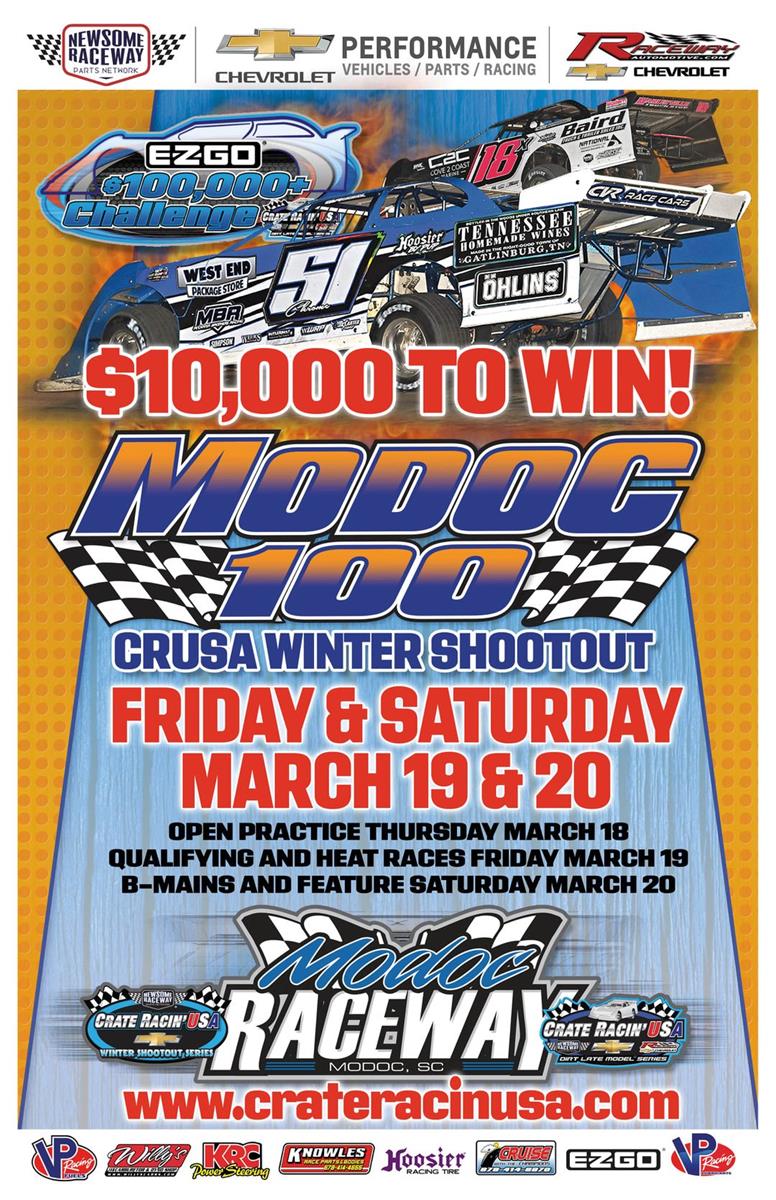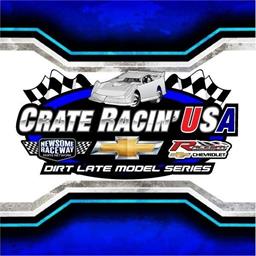 3/11/2021
Crate Racin' USA Dirt Late Model Series
---
Modoc Finale to Determine Winter Shootout Title
ADAIRSVILLE, Ga. — Despite repeated efforts without success to find a suitable makeup date, Crate Racin' USA Dirt Late Model Winter Shootout Series officials and Clarksville (Tenn.) Speedway track promoter William Scogin have agreed to cancel the Crate Late Model portion of the annual Tuckassee Toilet Bowl Classic that was scheduled to take place at the 3/8-mile oval.
The original date of the event was Feb. 25-27, and it was going to mark the organization's first-ever involvement with the prestigious annual event, but rain caused a postponement that eventually led to a cancellation of the event.
The Quicksilver Super Late Model portion of the weekend is still slated to be held March 12-13 at the high-banked track with events paying $3,000 to win (Friday) and $5,000 to win (Saturday) for the high-powered machines, but while making sure that the Crate Racin' USA portion did not hurt other sanctioned Crate Racin' USA facilities who are opening their seasons over the next few weekends, it became too difficult to find an open date that was fair to all.
"We have been searching for a date, and we've had terrific car counts and didn't want our show at Clarksville [Speedway] to possibly hurt our weekly tracks who are opening up their facilities for the season soon, and especially since we're coming off a year that was affected so deeply by the effects of Covid-19," said Crate Racin' USA series director Adam Stewart. "We need our weekly tracks to get off to as strong a start as possible this year, and we believe that will bode well for all of us later in the season.
"We also have a conflict with our annual Street Stock World Championship scheduled this weekend (March 13) at Cochran (Ga.) Motor Speedway, and our crew really needs to give as much attention to that event as possible."
Current points leader Dylan Knowles holds an eight-point edge over Jason Welshan in a very close duel for the $2,500 Winter Shootout Series championship, which has steadily become a prestigious title for a wide-ranging field of drivers who increasingly find themselves available to run the miniseries before the regular racing season cranks up for them in their respective home regions. Through six events held thus far, including five completed events in the Sunshine State during Florida Speedweeks (at both Volusia Speedway Park and East Bay Raceway Park), the average entry list has been an eye-popping 66 drivers per event.
All totaled, two Winter Shootout Series events fell victim to inclement weather. The Modoc 100, which will complete the miniseries at seven completed events from its originally-scheduled nine dates, will be held March 18-20 at Modoc (S.C.) Speedway, and will also be the second event of the season for the E-Z-GO $100,000+ Challenge, which is a collection of "series within a series" events that pay at least $10,000 to the winner. There is a separate points fund that will award $5,000 to that series' overall champion. A brand new concept this year, the E-Z-GO $100,000+ Challenge has already drawn attention from across the country.
"We certainly hate to lose this race at Clarksville Speedway, but William [Scogin] and I will together look at options for making it up later in the season as part of our regular touring series schedule, but there's no possible way to keep it as part of the Winter Shootout Series," Stewart said. "That is truly a disappointment for all of us.
"That said, we have a championship to be decided, and our competitors needed to know that the Modoc 100, which is our final Winter Series Shootout date, will be our last race of the miniseries and the championship will be decided there. With an eight-point difference between the top two drivers and Jake Knowles not far behind those two, we could have a dramatic ending to what has been a truly successful version of our annual Winter Shootout Series."
---
Article Credit: Brian McLeod
Back to News