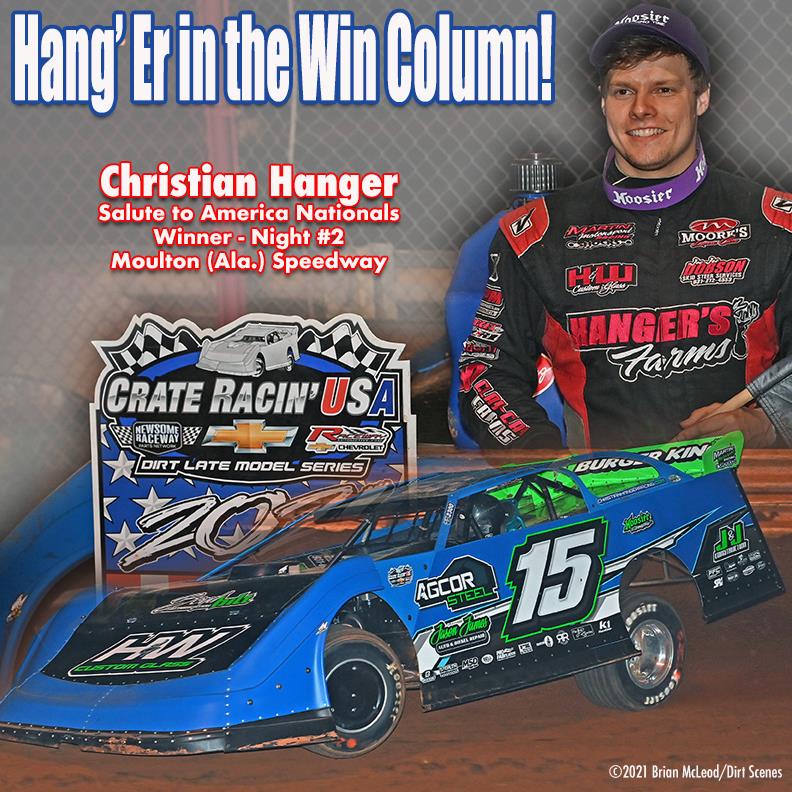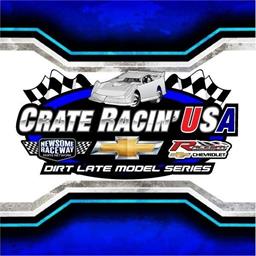 7/3/2021
Crate Racin' USA Dirt Late Model Series
---
Hanger Leads Every Lap for $2,000 at Moulton
DANVILLE, Ala. (July 2) — Christian Hanger has been mostly absent from the Newsome Raceway Parts-sponsored Crate Racin' USA Dirt Late Model Series this season while competing in the Super Late Model ranks, but he didn't forget how to drive a race car powered by a 604 Chevrolet Performance Circle Track Engine and wheeled a 7-year-old MasterSbilt-chassied entry to a flag-to-flag victory in a 40-lap event Friday night during the annual Salute to America Nationals at Moulton Speedway.
It was the Eastaboga, Ala-based touring organization's first appearance at the 3/8-mile oval since it reopened under the promotional direction of Keith and Amanda Steele, who purchased the facility late last year and swung wide the gates at the start of the 2021 campaign. A large crowd turned out to watch the second of four scheduled holiday weekend events for the touring circuit after the series suffered a rainout the previous night at Clarksville (Tenn.) Speedway.
Hanger started from the outside of the front row in a 23-car field, and the Winchester, Tenn., driver took the early advantage over pole position starter and fastest qualifier Cody Martin en route to a $2,000 victory, while Colton Leyendecker nabbed runnerup honors over Martin, current Crate Racin' USA Weekly Racing Series Late Model points leader Oakley Johns and Matthew Brocato.
Older Car Does the Job
"It's an older car we had, and considering it's seven years old, it ran pretty well for us tonight," Hanger said. "Other than a little brake issue we had, the car was great. We dove into turn one on one of those early restarts, and the brakes didn't work right and the car shoved up the racetrack a little bit, but I managed to catch it quick enough to not lose the lead, and that was really our only problem other than lapped cars."
Hanger said he was cognizant of the slower traffic at the high-banked oval, having suffered an unfortunate fate earlier this season at the track while leading and heading to a potential victory.
"The car probably wanted to run harder than I did, but I was holding back a lot tonight in lapped traffic," Hanger said. "A slower car cost me $3,000 earlier this year at this place, and I was being cautious so that kinda stuff didn't happen again. Something like that stays on your mind, so I probably didn't run the car tonight more than 50 percent of what I felt it could do. It seemed like we had more available, but there was only a couple of restarts tonight, and there's no sense pushing it when you don't have to because that can get you in trouble."
Hanger completed the distance in a car that carried sponsorship from Agcor Steel, Hanger's Farms, Hanger's Hardwood Flooring, Ballard's Excavation, Bumbeloe's Stud Service, Joe-Joe Dobson Skid Steer Services, Boyd-Bilt Fabrication, H&W Custom Glass, Jason James Auto & Diesel Repair and Martin Motorsports Racing Shocks. Bryce Wood, a crew member with the group that is described as the team's biggest help, was also given a nod by his teammates after he was unable to attend the event.
Earlier in the night's program after contact with the inside berm in turn four, Joe Denby's car went for a wild flip in the fourth corner in the first of two B-mains, but the Winchester, Tenn., driver was not injured in the red-flag producing accident.
Coming Events
During the remainder of the holiday weekend, the touring series will continue the four-race Salute to America Nationals with events scheduled July 3 at Talladega Short Track in Eastaboga, Ala., and July 4 at Cochran (Ga.) Motor Speedway, both of which pay $2,500 to the winner.
About Crate Racin' USA
The economical Chevrolet Performance 602 and 604 Circle Track Engine is utilized by competitors in the various divisions presented by Crate Racin' USA. It's in stock and available for free, next-day delivery from Newsome Raceway Parts in Hartsville, S.C.
Each engine is built and sealed at the factory to prevent any expensive modifications. To place an order, call 1-877-497-3624.
For more information and rules, visit the organization's website at www.crateracinusa.com, or follow our extensive social media programs on Facebook, Twitter and Instagram.
Newsome Raceway Parts, a division of Raceway Chevrolet in Hartsville, S.C., is the title sponsor of Crate Racin' USA. E-Z-GO Golf Carts is the title sponsor of the newly-established E-Z-GO $100,000+ Challenge.
Chevrolet Performance is an official sponsor of the organization, along with Advanced Laser & Machine, Cruise with the Champions, Hoosier Racing Tire, KRC Power Steering, Knowles Race Parts and Bodies, My Race Pass, VP Racing Fuels and Lubricants and Willy's Carburetors.
Official chassis sponsors include Warrior Race Cars, Rocket Chassis and CVR Race Cars.
Moulton/Salute to America finish: 1. Christian Hanger, 2. Colton Leyendecker, 3. Cody Martin, 4. Oakley Johns, 5. Matthew Brocato, 6. Jimmy Thomas, 7. Tyler Wood, 8. Brad Skinner, 9. Tanner Collins, 10. Jason Markewitz, 11. Shane Stephens, 12. Matt Cooper, 13. Jake Knowles, 14. Chuck Tuck, 15. Hunter Blackwell, 16. Justin McRee, 17. Troy Dixon, 18. Mike Henn, 19. Mike Combs, 20. Jadon Frame, 21. Jason Welshan, 22. Jimmy Elliott, 23. Seth McCormack.
Did not start - David Kay.
Current points standings: 1. Jason Welshan, 508 points; 2. Jimmy Thomas, 482; 3. Tanner Collins, 480; 4. Jake Knowles, 476; 5. Mike Combs, 396; 6. (tie) Colton Leyendecker and Troy Dixon, 366; 8. T.J. Brittain, 288; 9. Jake Rainey, 270; 10. Austin Horton, 256.
Total entries: 29
Boyd-Bilt Fabrication Fast Qualifier: Cody Martin, 13.882 seconds
Lap leaders: Christian Hanger 1-40.
Cautions: 2
Margin of victory: 1.444 seconds
B-main winners: Seth McCormack, Brad Skinner
---
Article Credit: Brian McLeod
Back to News